Covalent was released at the beginning of this year (2022) and has already seen impressive adoption by the communities in which we operate: machine learning, data science, high performance computing, and quantum computing. While we've been extremely delighted to see so much interest in the tool that we spend all of our time thinking about, we know that Covalent will only ever be as strong as the community we build around it.
That's why we're participating in this year's Hacktoberfest: a month-long hackathon put on by the team at Digital Ocean that celebrates all-things open source. Our goal for the event is to give new members of the OSS community a chance to contribute directly to Covalent via a curated set of issues. For many on the Covalent team, Hacktoberfest is where we got our start in open source and we're thrilled to now be in a position to give back! We'll be giving away prizes all month for those who participate, the details for which you can read more about below.
How to participate
Officially, you should sign up on the Hacktoberfest website by September 26th to take advantage of all the cool events and prizes that are being given out by the organizing team. However, we will be giving away our own set of prizes, independent of whether you meet the signup deadline, based on the guidelines below:
Optional: sign up on the official Hacktoberfest website by Sep 26, 2022 (note this is not required to gain access to Covalent-specific prizes)
Visit the Covalent GitHub repository and browse issues tagged with the Hacktoberfest tag
Reference the issue link in the PRs you're working on and add "Hacktoberfest" somewhere in the title of your PR
Receive prizes based on the number of accepted/merged issues with hacktoberfest tag on them
Star the Covalent GitHub repository ⭐
Join the #hacktoberfest2022 channel in the Covalent Slack 
Fill out the following form to claim your prizes on/before October 31st, 2022
*note that all contributors are required to read our contributor guidelines before submitting a pull request
Prizes
Prizes are based on the total number of your contributions (closed/merged PRs). There is no limit to the number of prizes you can win, and in fact, we might even be inclined to give away bigger prizes to those who go above and beyond! 🧑‍🚀
You can see the full list of prizes and number of contributions required to achieve them below: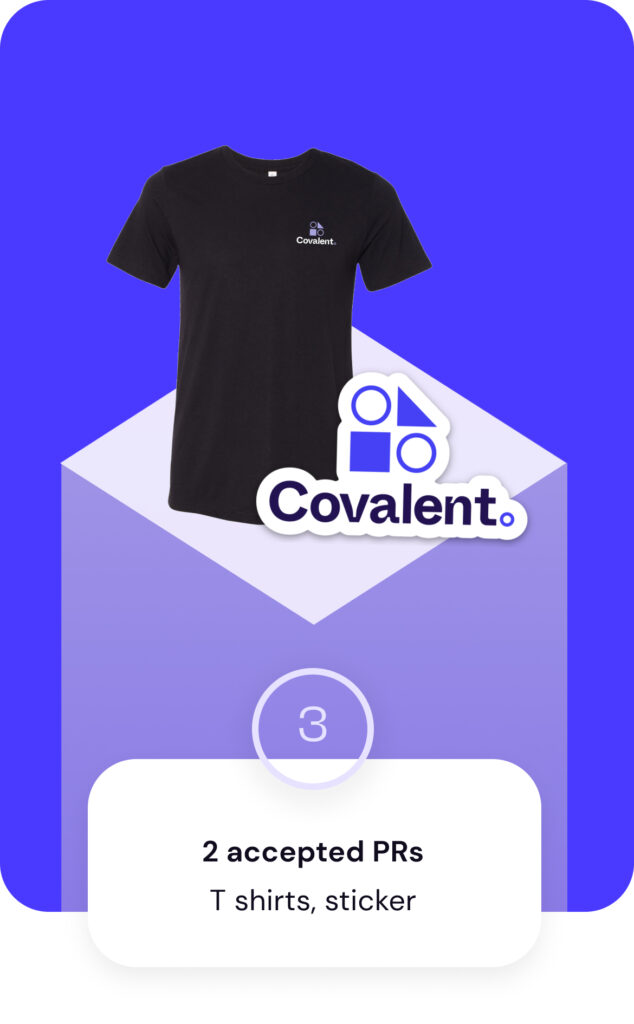 Additional information
If you are new to the Covalent community, the following links can be helpful:
The easiest way to get in touch with us is through Slack. Alternatively, you can feel free to start a thread on our GitHub discussions board or meet us in the Hacktoberfest Discord channel.
GLHF!